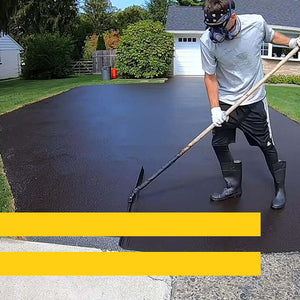 Best Sealcoating Sprayers
Best Asphalt Sealer Sprayers for You
Its' time to dump that squeegee and upgrade to an asphalt sealer sprayer machine. Lucky for you, we've compiled a list of the best sealcoating spray systems out there which will make your research much easier, faster and easier on your wallet. 
We broke our sealcoat sprayers down into 4 categories, each category providing a great option for the different stages of an asphalt maintenance business; beginning, mid size, mid size to large, and a separate category, business starter packages. 
We understand that the best option for one person may not be the best option for another, so we did our best to keep business stage and budget in mind. We're positive there is something on this list for you.
Let's take a look!
Best Sealcoat Sprayers for Beginning Businesses
So you're just starting out, maybe you've done a few jobs already with a squeegee, or worked for another asphalt company and you're ready to take the plunge. You're in the right place, because these 2 asphalt sealcoat sprayers were designed just for you...
Best Sealcoat Sprayer for Mid Size Businesses
Looking to step up your asphalt maintenance business? Or maybe you're looking to offer more services to your existing construction business. We have several great sealcoat spray system options for you! 
AK230 Sealcoat Spray System
A step up from drum and tote sprayers, this 230 gallon spray system features a 11 gauge steel tank that won't warp from severe weather or pressure. What you have here is a high quality, durable tank and spray system that will last many years to come with minimal maintenance required. 
11 gauge steel tank comes with large opening to make cleaning easy
Comes equipped with Launtop engine and aluminum pump
Sealcoat roughly 38 driveways with one full tank!
Learn More
Best Asphalt Sealant Sprayer for Growing Businesses and Large Businesses
Looking to seriously scale your asphalt maintenance business? If you're ready to reinvest into your business, we have a few products that will supercharge your business and allow you to scale faster than ever before. 
Best Sealcoating Package Deals
Looking for a turnkey option to get your asphalt maintenance business started ASAP? Stop messing around with cheap products and make a 1 time investment to get the ball rolling! 
Sealcoat Business Package - Silver
Pair up prepping, crack filling and sealcoating services all in one with the silver package. This package deal includes asphalt prepping machine, the RY10 crack filling machine, the AK230, the wand wizard edger, crack filler material and asphalt sealer material. 
Learn More
Final Words
Whether you're just starting out, or looking to scale your business to that next level, we have what you need to get you there. If you have any questions, feel free to call us at (888) 320-9855 or email us at info@asphaltindustrial.com!
---